Binding Covers
Book Binding Covers, Thermal Binding Covers, Presentation Covers & More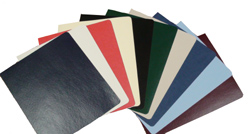 Binding covers
give your documents, reports, proposals, and other important papers a professional look. Choose from high-quality stock covers,
thermal binding covers
as well as GBC Presentation Covers, that can be used with most book binding systems: Plastic Comb Binding, Spiral-O Wire Binding, Plastic Coil Binding, Double Loop Wire Binding, and other binding systems. Our selection of binding covers includes Embossed Binding Covers, GBC Grain® Presentation Covers, Linen Binding Covers, Flexi-Grain Binding Covers, Akiles Sand Polycovers, and other types of covers to suit your needs exactly.
Factory Express offers a great selection of binding covers at great prices.